Since I was a child, sigh, there have been two key indicators of economic growth: airport traffic and cranes on the skyline. This is dinkum fact, there is a construction consulting firm called Rider Levett Bucknall, they have a registered index the RLB Crane Index that counts the cranes to evaluate the state of the economy. This is primarily the US economy, but cranes and skylines are universal. Mr RLB is convinced and has proved that cranes are a snapshot of construction activity and this leads economic growth and expansion within a market, a useful gauge to the financial health of the environment.
Then there are airports: Over the past decade our airports in South Africa have been hubs of activity. Frenetic, bustling places where you walk quickly, where the sound of baggage wheels mixes with the endless announcements. Sunday afternoons were not time for idle napping but for getting to places in preparation for the next week's business. Friday afternoon airport lounges were stacked with weary executives, grey bags under their eyes and bungling briefcases. All hurrying home for the weekends to begin the cycle over in 48 brief hours. Our flagship airport is the OR Tambo aerotropolis, not just any international airport but the gateway to Southern Africa and the world. The Google entry for OR Tambo states that this modern facility is capable of handling up to 28 million passengers annually, that is a lot of people and a lot of luggage. My lifetime has provided me with the framework of referencing air transport as a key economic driver, facilitating not only the integration of the country's resources internally but enabling these to move across borders into the global economy. Good air transport provides conduits for sales, efficiency and investment. The greater the connection to global air transport networks the better the access to markets and the links between and within businesses.
Given the backdrop of these two powerful forces I would like to share my recent and almost other worldly experience of a domestic flight: A simple, straightforward day trip from Durban to Pretoria in Level 3 lockdown, the itinerary was a return flight from King Shaka to ORT. Both terminals are barely recognisable, the lights have been dimmed, the shops are closed, and the roller shutter doors slammed down. There is no one on the concourse, no queues in the bathrooms and none of the lounges are open. The plastic seats are taped closed to prevent people sitting side by side. The entire day's scheduled flights fitted onto a single screen on the electronic billboard that usually scrolls through cascading arrivals and departures.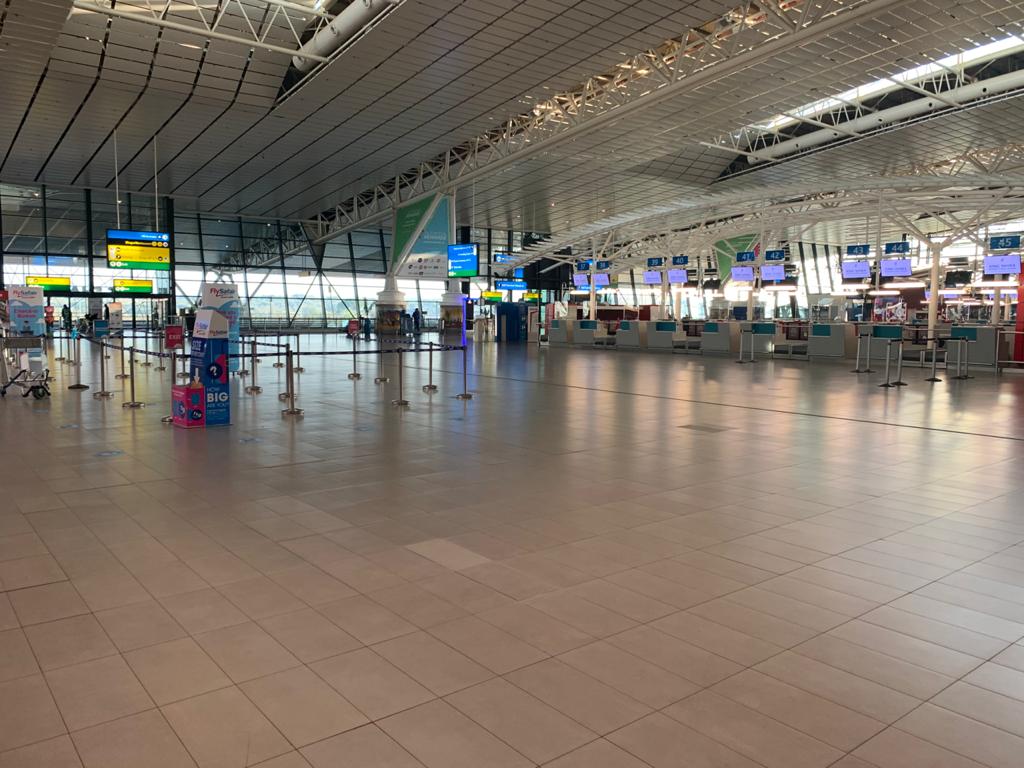 We had all the travel forms, filled out in triplicate, permits, essential travel declarations, ID's and boarding passes. There is a strict 'no touch' policy. The downside is holding your forms, your ID and then being asked to remove your mask so the check in lady can see that you are  who the documents say you are. Social distancing is announced over and over before and during boarding and then, ironically, as you disembark in the regimented 2 rows at a time. The middle bit – the actual flight – is the grey area, where you sit cheek-by-jowl to the next passenger in the slim-line seats. I could imagine the Covid-19 virus spiking its way through the upholstery towards me after the guy behind sneezed a loaded sneeze and blew his nose. The entire aircraft held their collective breaths for longer than 45 seconds and averted their eyes to avoid making contact with the perpetrator.
Why am I writing this?
To share my scary airport experience and the drastic unreality that is our non-existent economy, to confront the loneliness of being an entrepreneur and running a business in these uncertain times. One of my recurring questions is how to continue to motivate any team of people when you are scared yourself and struggling with your own motivation. The present is frightening, the future is more uncertain. The solution is simple, easy to say but not so easy to execute: Don't blink, keep moving forward, innovate, be resilient, do all of this all the time, don't miss a single opportunity, don't forfeit any payoff profile, ever. You can chew through Vitamins B, C and D, these will boost your immune system but not necessarily your motivation. Don't forget to sanitise your oximeter and take your temperature twice daily.
So, this storm too shall pass and we will be stronger. Our businesses may be quite different, and we may be altered ourselves. To all the entrepreneurs out there, don't lose your nerve, stay the course, lean in with people who have positive energy – they will balance you when you wobble.  Its teamwork and, yes, I believe we can do it if we all commit to pulling together. I am sure there is a bumper sticker for this.
Author: Janet Channing, MetGovis MD
---
Still looking for your dream home. Feel free to give one of our developers a call today.
Tom Eastwick – The Gates, Hilton and Garlington, Hilton | 072 297 2699 | tom@devdirect.co.za
Janet Channing – Waterford Residential Estate, Howick | 082 570 5834 | janet@devdirect.co.za
#retirement #gatedestate #luxuryliving #midlandsliving