We had the opportunity to chat to the owner of Natural Nostalgia, Kimberley Lomas about their gorgeous Blooming Boxes. Here is what Kimberley had to say about having fresh flowers in your home.
Fresh flowers can have a dramatic affect on your mood and are a saving grace during these challenging times. They really bring an endless amount of joy and are an essential for every home or office space. I find gorgeous fresh blooms brighten up my home and give just a glimmer of hope during these stressful times of being house bound.
We at Natural Nostalgia are offering two exciting new products since the start of lockdown. Blooming boxes which come wrapped up in a gorgeous box along with a DIY video tutorial for you to put the arrangement together on your own at home into one of your own vases.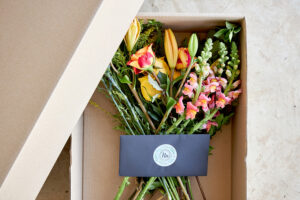 Our clients just love the opportunity to learn a bit about flowers and to also practice their hand at flower arranging. Our boxes and tutorials come with information on how to properly care for different types of flowers and you learn fun facts about each individual flower and how to make them last longer.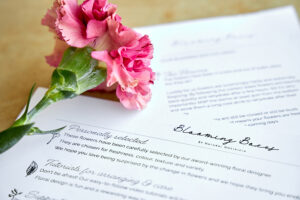 Our boxes also come in various colour schemes so each box is a delight and surprise as we work through different concepts.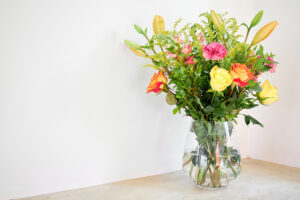 For those who find a DIY arrangement too daunting we have fresh bespoke bouquets designed by Kimberley our award-winning florist. Our blooming bunches are available for pre-order for special occasions and are also available at the Quarry Superspar – we have our own designated area by the fruit and veg. Please pop in every Friday to buy a gorgeous bunch of blooms and celebrate fresh flower Friday.
Moving onto indoor plants. Indoor plants are always a win – my house is filled with indoor plants such as delicious monster and palms. Great flowering indoor plants would be anthuriums and orchids – these tend to typically flower for a long period of time and then will reflower the following year. All indoor plants need bright light (not necessary direct sunlight) and regular watering.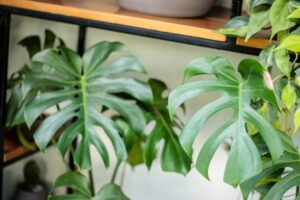 As many of us wait for Winter to pass, there are wonderful flowers coming into spring time – Iris, tulips, stocks, hyacinth, blushing bride and more – all are lovely. Cymbidium orchids are also starting to flower and these are gorgeous both potted and as cut stems.
Follow Natural Nostalgia on their social media pages to see their weekly flower specials as well as their blooming boxes. Email us on info@naturalnostalgia.co.za for more information or a quote.
Facebook: https://www.facebook.com/NaturalNostalgia
Instagram: https://www.instagram.com/natural_nostalgia
Author: Natural Nostalgia
Images: Taken by www.wildolivephoto.co.za
---